Dungeon slave Cici Rhodes
strictly restrained and ANALLY
fucked by BBC, epic messy
deepthroat! | Cici Rhodes | Matt Williams | Jack Hammer


Jan 7, 2015




Redhead MILF belt bound and assfucked by BBC with brutal deepthroat

All dungeons should come with standard with a sexy bound redhead, right? And the sexy bound redhead is even more fun when it is Cici Rhodes. This tall lanky redhead is one of our favorite fucktoys, and with good reason. Belt bound doggystyle upon a custom made bondage device that leaves both ends wide open and exposed, Cici is ready for use.

And use her we do. Both ends, two hard cocks, all three holes. This is three hole training at its finest. Our dungeon pet is quickly reduced to a messy drooling glassy eyed lump of slut. 10 inches of big black cock open up her pussy and her ass and Cici takes every inch balls deep. All the while another cock is reshaping out her mouth until it is custom fitted.

As the moans and orgasms burst out of both ends, our MILF is lost into deep sexual subspace. Her hair and makeup are destroyed, along with her ass, as her true and honest self is revealed. Her honest self is a cock crazed slut that craves the bondage and the orgasms. Is it any wonder we keep this one as a dungeon pet?

After we have used every hole repeatedly, we leave our sweaty and limp toy heaving in her bondage. She will keep until we want another round...
Sexy MILF Cici Rhodes tightly
bound in stocks on sybian,
epic rough messy deepthroat on
BBC! | Cici Rhodes | Matt Williams | Jack Hammer


Dec 22, 2014




Redheaded slut bound in stocks on a sybain and brutally facefucked by BBC

This tall lanky redhead can really worship the cock properly. Cici Rhodes has a nice enough cunt, but that isn't what we want today. We are going to stick that cunt onto a sybian, the world's most powerful vibrator, and then run a train on that face pussy. How well can Cici deepthroat while cumming her brains out? Let's find out!

Stuck in stocks in strict wooden bondage, Cici is belt bound down firmly. A big black ballgag is wedged deeply in her mouth hole. We cut away her clothing to see what we are working with and start off with some weighted nipple clamps to keep her attention. Then we settle into reshaping her throat until it is custom fitted.

One after another the hard cocks thrust balls deep into Cici's drooling face. She sputters on the cock sand all the while the sybian is working its magic between her bound and creamy thighs. Her makeup is quickly destroyed and her eyes go glassy and distant. This is what she was made for.

The drool runs down her small breasts and pools between her legs, lubricating her pussy as the sybian rips yet another orgasm out of it. When we have had our fill of her mouth, we wedge a tongue trap on her hardworking tongue. Cici is left to languish in her bondage, the cold metal weights hanging off her tender nipples as she cums yet again.
Pretty redheaded MILF Cici
Rhodes throatboarded by 2
dicks while restrained on a
fucking machine! | Cici Rhodes | Matt Williams | Jack Hammer


Nov 24, 2014




Slutty redhead belt bound onto a fucking machine and brutally throatboarded

Here at Sexuallybroken, we love us some Cici Rhodes. This tall lanky redhead has some serious deepthroat skills, which she combines with a cheerful honest love of the dick. One of our favorite games is to see just how well these sluts can multitask, and today is no exception. Today we are going to stuff this tramp from both ends and throatboard her into next week.

Cici's all natural breasts are tightly tied with thin leather cord before she is belted down onto a custom made wooden bondage device. The device keeps her head at the perfect angle for the throatboarding. She can not move her head or escape the dick, all she can do is accept her face pussy getting railed by hard cock. A fucking machine screwed down in place between her pale thighs is the finishing touch.

Once we flip the switch, it is on. Machines never slow down, they never get tired. They will outlast tender flesh every time. While the fucking machine works its magic ripping orgasm after orgasm out of our MILFy redhead we get to work reshaping her throat. 10 inches of BBC slide in as Cici drools helplessly. The cocks run a train on her mouth, swapping back and forth, never allowing her to get on top of it.

We win in the end. We were bound to. The one two combo of dick and bondage sends Cici sliding over the edge. She can not ever twitch, hanging off the end of our cock like a good little fuck puppet. Consider this one trained. Welcome back Cici, you were missed.

Sensation Slut | Cici Rhodes | Rain DeGrey
Nov 5, 2014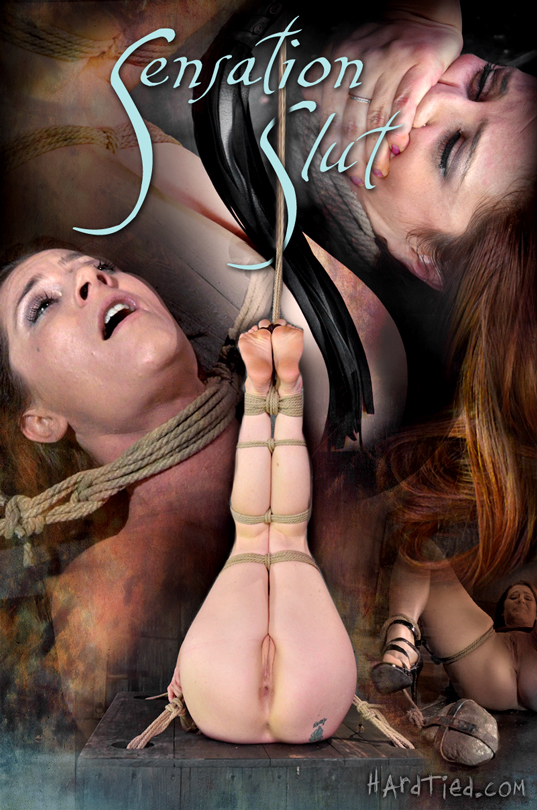 Cici Rhodes is a tall lanky redhead that clocks in at 5'10. She might be too much woman for most, but not for us. Today we are going to cut her down to size and work her over in all of the ways that this sensation slut so badly craves. We are going to bind her down and stuff her holes until she can not get her cum drunk eyes uncrossed.

There is no pleasure without pain however, and Cici will have to earn every orgasm she gets today the hard way. Cici is bound wrists to hips with large rocks tied to her ankles. The rocks slow her down enough that every movement is a painful undignified crawl. We warm her up with some foot worship and face degradation before cutting out two holes in her shirt to let her pink nipples spring free. We tease her with a vibrator but deny her what she so badly craves.

Enough warm up. Time for the main course. We tie Cici onto her back with her feet pointed up towards the ceiling, all the better to display that ass. Her holes are completely exposed and wide open and her toes call out for torture. We oblige. We are givers like that. Caning and flogging are followed up by a DP that sends our sensation slut spiraling into an earth shattering orgasm and we are not done with her yet.

We finish her off with a bent over tie that puts her at the perfect position for some strap-on fucking. A neck rope holds Cici in place and prevents her from escaping the dick. We flog that juicy ass a little more because we just can not resist before gripping our slut's hips and slamming home without mercy as weighted nipple clamps bounce painfully with every stoke. She cums gratefully all over the dick, her breath is harsh and ragged gasps. The final touch is hooding our toy with her own cut up shirt. We will be back later when we fell like playing some more...

[Archive] Back Into the Fold | Cici Rhodes | Elise Graves
Sep 12, 2014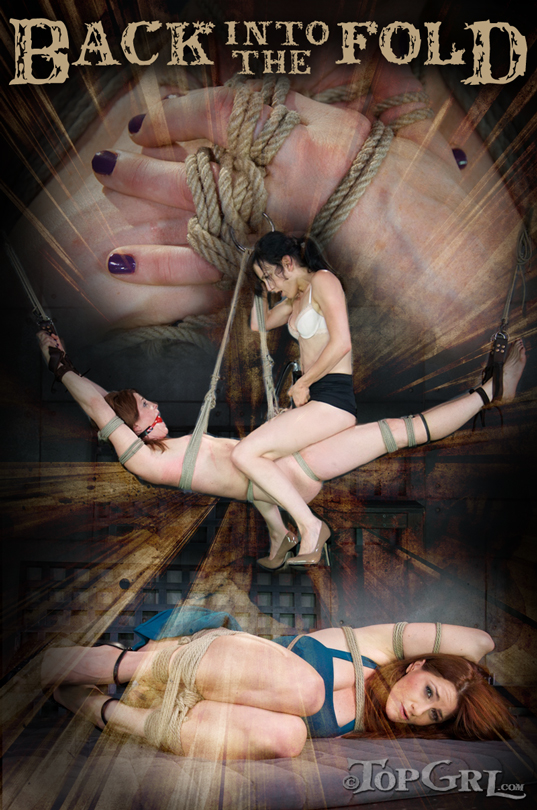 Welcome back, Cici.

You've been away far too long. Los Angeles didn't sit well with you, did it? I'm sure it left much to be desired. You are far too advanced for that society. You do not belong among them. Leaving that trap was for the best.

You've come back home to your people. We understand you. We understand your deviant proclivities. You don't have to explain your desire to be tied up tightly, or your need to feel what's it like to not be able to escape. Helplessness is a prized state of mind - that is obvious in these parts. We are aware of your craving to be tossed around, masturbated upon, used as a piece of furniture, only to later be bent over and taken from behind. There's no need to spell out the subtleties of the art of teasing, or the boldness of the whip. These matters are well understood here. You are home.

Your reintegration process begins slowly, methodically. A modified ball tie ensures that your mobility is very limited. But I know you need more. I know you need your small freedoms to be removed one by one. First it's your tongue - clamped and stretched to your knees. Then your pussy lips are clamped and stretched out to your toes. These additions are made to place you in the correct frame of mind. You are here because I want you here. You are here to be played with however I see fit. You are not to move.

Stage two of this welcome home party has you worm tied and suspended. What's it like to be used as a piece of suspended furniture? What's it like to physically support someone who is cumming their brains out while you hang there, suspended in both time and space. At my disposal.

Finally, if I know of any way to celebrate the return of a cohort, it's to welcome them with pain and objectification. Tied with your hands around your neck, as if your are choking yourself, your pussy is exposed and for the taking. That wouldn't be nearly as fun, though, without indoctrinating you first with pain. I know what you are here for. I know why you came back. If you merely wanted fucking, you would have stayed in that plastic city. You didn't. You came back home. And home is where the bondage is.

Welcome back, Cici. Back into the fold..